…as told by Matt Rajkowski, Chief Software Architect at Concursive.
Last weekend I was able to put Concursive's Open City Platform to the test. I showed up in Greensboro, North Carolina at HQ Greensboro without a plan… I was attending Code for Greensboro and the City of Greensboro's Civicon15 – a hackathon to use the city's newly available Open Data datasets. For $20 I could end up winning $1,000! The weekend was less about the prize money though, I knew that going in. I wanted to prove something.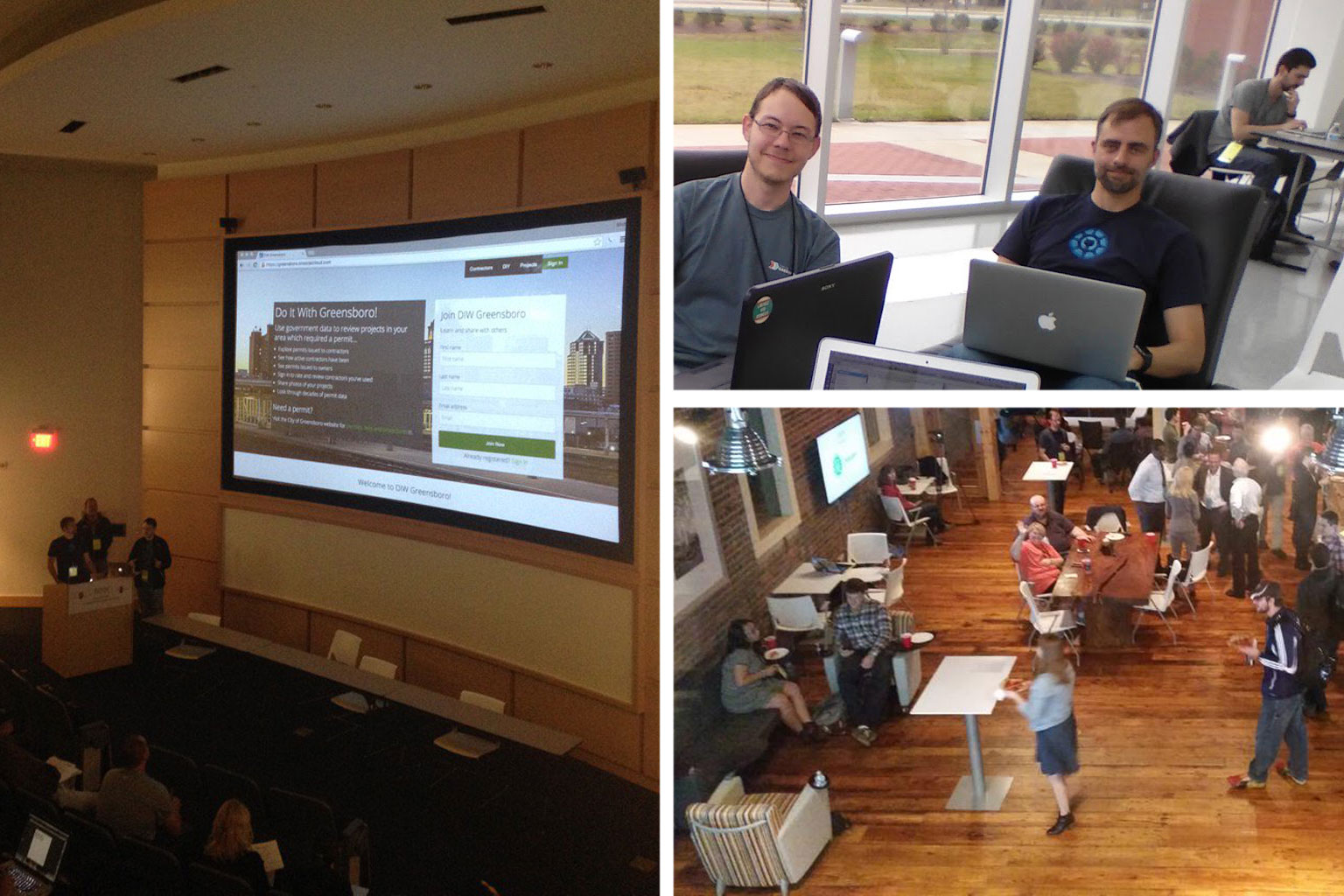 The CIO of Greensboro, Jane Nickles, introduced the datasets: Fire Incidents, Building Inspection Permits, Local Ordinance Enforcement Inspections, Violations, History and Cases. Then the welcome party went on.
During the meet and greet, I heard "I haven't seen you before", actually more than once. The truth was I had heard of the event from folks in Raleigh and Cary, I have family in Greensboro, and I didn't have anything scheduled for the weekend. The locals were very receptive and conversed about what they were up to – next door, The Forge, Greensboro's Makerspace, blew me away as Forge president Joey Adams gave several of us a tour… think 3D printers, CNCs and industrial sewing machines.
I listened to Red Hat's Jason Hibbets talk about what it means to be an open data city (his book here: The Foundation for an Open Source City). Hearing this just adds fuel to some fire burning inside me to be a part of all of this. Fortunately I came across Ian Henshaw, someone I had met at Code for Cary. He said his team didn't show (other hackathons and obligations). So we teamed up.
The next morning, Saturday at 8am, I met with Ian and his son from Wake Tech, Stephen. We brainstormed around the data and decided to build a social web site for researching and reviewing contractors – based around the Building Inspections Permits data. We decided to call our project and team "DIW Greensboro", a play on DIY, because you would be doing projects with contractors and you would be able to look at how the permit process is being used… So "Do It With Greensboro" made sense. Yes, we know that DIW can also mean "Do It Wrong" or more bluntly "Dead In The Water" – we figured DIY projects can be both.
The goal was to bring up a website (i.e. build something), so citizens could find out information about contractors (i.e. have an impact on the community), and finally to rate and share experiences about them (i.e. be innovative). That was how we were going to be judged.
Ian was responsible for taking the data and grouping it, filtering it, and making charts, graphs and interactive tables – he works for OpenDataSoft and has some great software to work with. Stephen was responsible for cleaning and transforming the data since there were some inconsistencies – he used Google's OpenRefine which I learned is pretty awesome. I was responsible for setting up Concursive's ConcourseConnect and embedding the data.
It took a day and half (actually 14 hours) to create a nice looking and functional website, and to submit our code. Using Concursive's platform, which takes care of things like user logins, permissions, emails, and content management, we settled on building out a directory of contractors. Based on the Greensboro data, we defined what a contractor is: a company name, address, contact details, and related permits. We then used the Ratings, Reviews and Photos modules. With that, citizens would be able to review the contractors and submit photos from actual projects. Finally we embedded charts, graphs and tables using OpenDataSoft's tools and software. It's all sortable and searchable. The next time I need a contractor I would definitely want this information available. The nice thing is, decades of data is there, you just need a platform which takes advantage of it.
The most stressful part of a hackathon, at least for me, is the presentation to the judges. You have 5 minutes to tell a story and demo the product. I was pleasantly surprised to see 8 other teams present. Their ideas and products were interesting. I would use almost all of them if they brought them to market. Who wouldn't want to know the average fire department response time to their house? or what kinds of law enforcement violations and complaints are going on around your neighborhood? and best of all, who wouldn't want to have a random suggestion for top-rated places and events to go to? I especially liked the option to 're-roll' as if life is a game.
So we had until Sunday at 1pm to finish, then presentations started at 3pm. Judges had made their decision by 4:30pm. Team "DIW Greensboro" came in 3rd place, "Girl Code" came in 2nd, and "Flying Turtles" came in 1st (Congratulations!).
Everything we did is available in Github. It's a repeatable idea so we look forward to sharing what we did and expanding it to other cities and projects.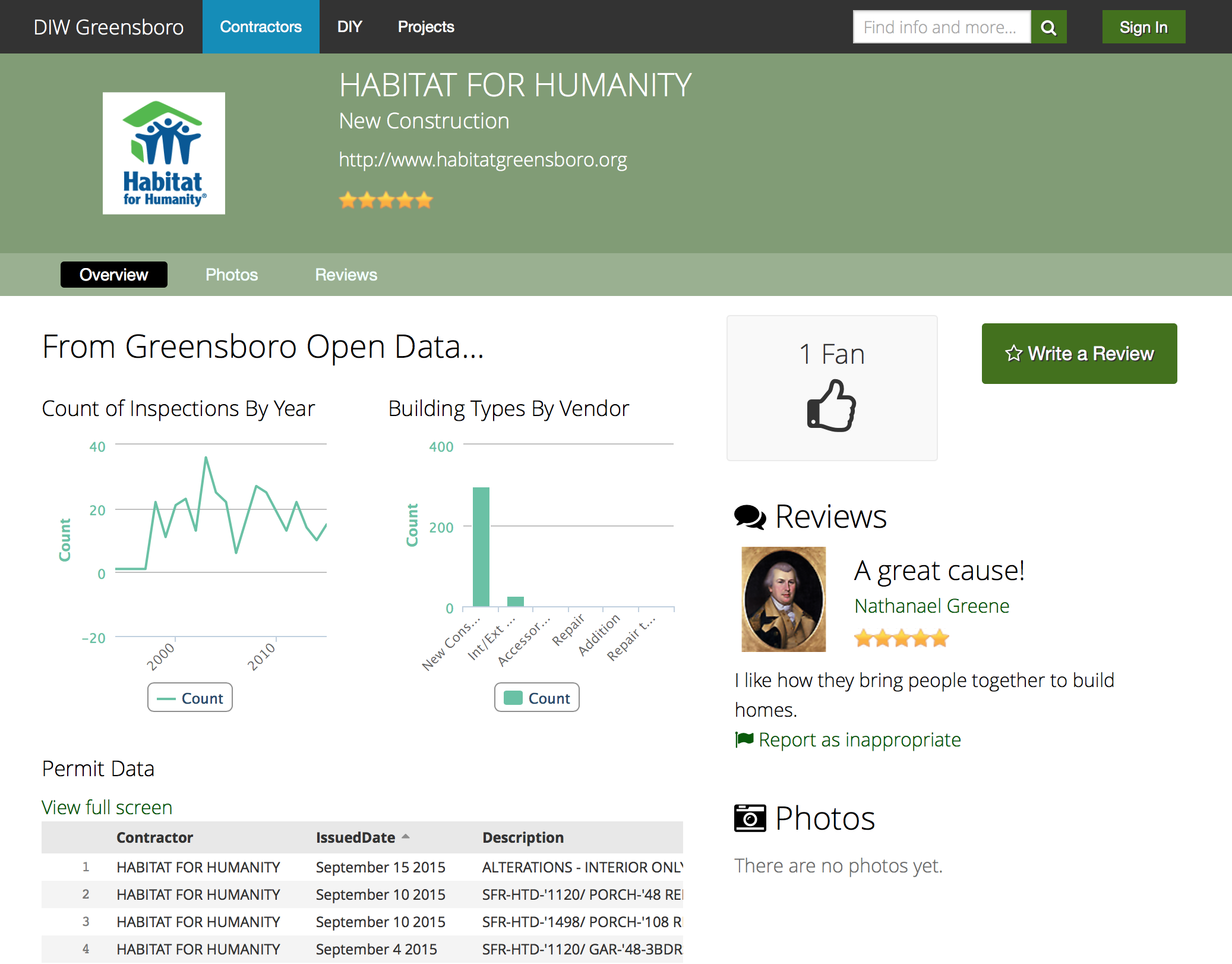 You can see the site here: http://greensboro.onsocialcloud.com