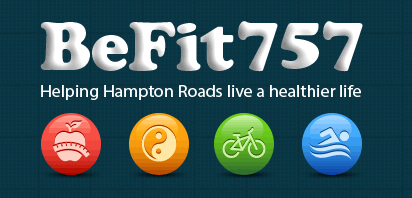 Having a platform for designing social-local-mobile hubs is very convenient. While Concursive has enabled thousands of private business in deploying their own collaboration and customer relationship management solutions, we've also helped businesses and organizations in launching community driven hubs, with all the features of collaboration: activity updates, blogs, wikis, document sharing, and project planning tools to name a few.
Soft launching this month is BeFit757, built on top of Concursive's platform. Joe Antle, Concursive Vice President, says "BeFit757 is the most complete solution for helping connect health and wellness providers to groups of people, employees and colleagues, who are pursuing formal wellness programs."
The public solution works like this:
Businesses and Organizations list themselves at BeFit757.com – this sets up a profile for the business or organization. Profiles are then filled out online, either by the profile manager or site staff. Profiles include text, graphics, video and links. The profile content explains the mission and background information.
Once the profile manager has been trained, the business can order a mobile app which connects to their profile. The profile manager is in control and creates push notification challenges to the app users. These are goals or challenges in which the manager sets using their expertise and users can choose to accept and participate.
To get started with BeFit757, download the BeFit757 App from the Apple App Store. It will show you the challenges and link you to the companion wellness apps as well.
http://itunes.apple.com/us/app/befit757/id586353625?ls=1&mt=8
Joe adds, "Formal efforts such as those sponsored by affiliate groups and trade associations, employers, providers seeking to add a group dimension to their offerings, and health insurance companies wanting to support and add a collaborative element to their wellness initiatives are especially likely to benefit from the affordable, easy to use and group focus of BeFit757."
I think this is a unique and well thought out example of a community that can grow.
Be fit and stay healthy!