16 social networking apps, different social networks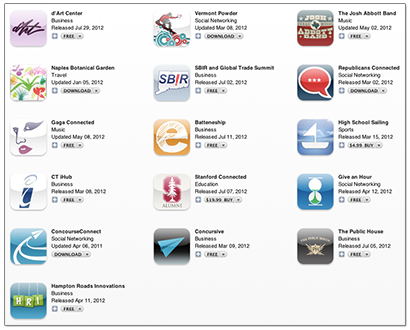 Going social doesn't mean just a web site these days – it also means mobile and local. Each social network we bring online, using our ConcourseConnect social platform, features a mobile API for third-party clients. There's sharing to Facebook, Foursquare Check Ins, Topics and Voting, plus much more! Here's just a sampling of some of the communities built on ConcourseConnect and an overview of how they use mobile:
Connecticut Innovation iHUB: CTiHUB currently has two apps. A main app for the CTiHUB community to connect and collaborate, and a second app for the SBIR and Global Trade Summit. This second app is attached to the iHUB but is focused on providing an awesome experience for their biggest event of the year. See what's happening with the news feed, see the latest photos, see the sponsors, see the businesses participating on a map, and see the event agenda. It's our first event app.
d'Art Center: Norfolk's d'Art Center app features over 40 artists in a unique downtown location. Check In with this app, learn about the artists, see the latest photos and see what events are coming up. This is one of our directory-style apps to showcase a number of artists (entities) all coming together and featured in a single app.
There's more to explore. See Concursive on the app store!