We help you build communities that matter...
| Rich Profiles | Blogs | Wikis | Activity Streams |
| --- | --- | --- | --- |
| Create private or public projects & groups, engage people, rate ideas, manage events and more. | Share knowledge when it happens and empower users to share their interests and engage with others. | Share and organize information for collaborative viewing, searching and editing. Easy knowledge sharing. | Your own Twitter, but even more powerful as it's secure and users receive their own e-mail updates. |
ConcourseConnect is a comprehensive platform for rapidly deploying large online communities—whether internal, external or a combination of both. It is the first platform to bring together online community, social networking tools, integrated customer relationship management (CRM) tools and a set of full management tools.
At the heart of ConcourseConnect is a robust community creation platform with an integrated directory front-end that provides intuitive searching and viewing of all community content. On the backend, ConcourseConnect communities easily integrate with a powerful suite of customer relationship management (CRM) tools and a comprehensive management console.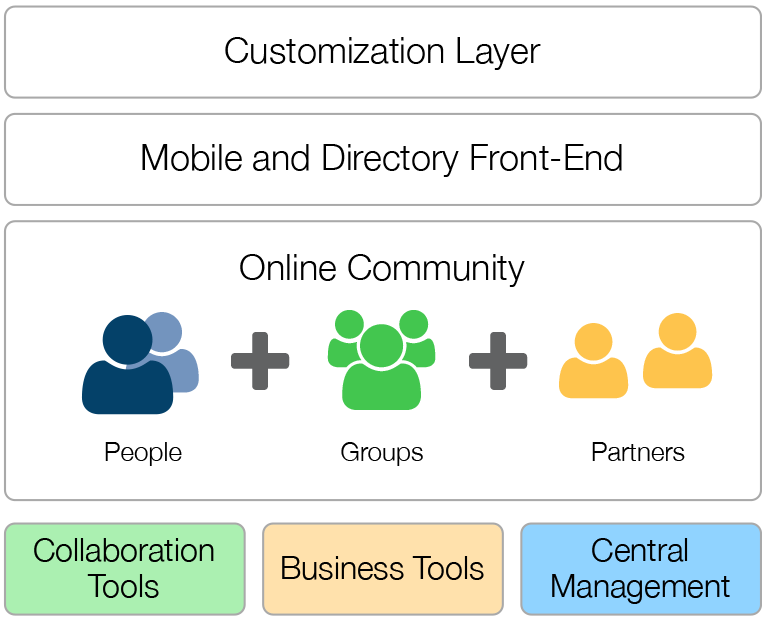 Every entity in the community (people, groups, businesses, organizations, etc.) has a rich profile that provides powerful web 2.0 and social networking tools like blogs, wikis, forums and more. Private messaging, reviewing, rating and tagging capabilities add to the richness of the user experience and encourage participation.
ConcourseConnect can be deployed in either on-premise or hosted environments to enable Commercial Networks capable of supporting millions of users. A flexible customization layer that includes a Java Portlet architecture and a skinnable interface means ConcourseConnect can be configured to match unique technical and branding requirements.
Get more information
The Web Platform for Social Sites
How is Connect Different?
View a Feature Summary
Explore ConcourseConnect Sample Sites
Compare ConcourseConnect Versions and Pricing