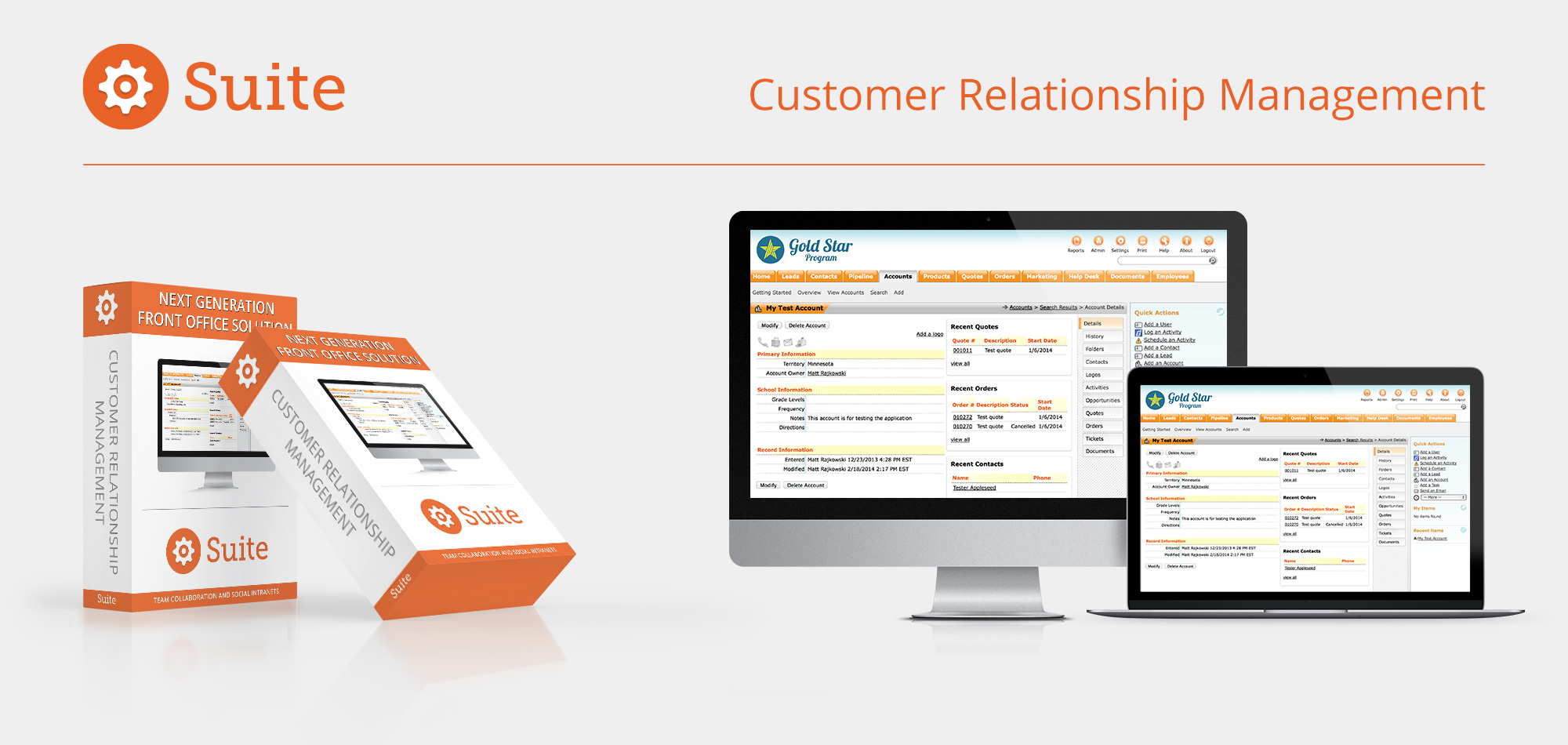 Suite
Suite is the next-generation Front Office Solution. Its platform encompasses CRM, order management, e-commerce catalogs and social networking. It embraces the always-on, always-connected world. It incorporates Web 2.0 technologies to enable much richer, many-to-many interactions among companies, their customers and other communities of interest.
Suite embraces openness—open standards, open business models, open source, public APIs. It shuns customer lock-in; instead, it lets customers reuse their existing software, integrate with legacy applications, even utilize old CRM systems.
Next-generation CRM enables a new kind of enterprise—the Extended Enterprise—in which companies work not only with their suppliers and customers but also with resellers, distributors, franchisees and agents. Extended Enterprises can deploy the Suite platform to serve not just the enterprise itself but its dealer channel, franchisees, network of agents or online affiliate network.
Extended Enterprises seek a platform to build new functionality, not just a complete CRM solution. They hope to reuse their Java-based software components in other applications and integrate legacy systems with CRM. Unlike "closed box" systems of other CRM vendors, Suite provides these platform features. Suite delivers, a scalable, flexible architecture with robust security and ease of use.
Suite includes all the basic functionality of previous generations and adds more, allowing companies to:
Interact with customers however those customers desire by adding Web 2.0 and social networking capabilities (re-christened Enterprise 2.0 for the business world.
Capture all customer data - webstatistics, CRM, Enterprise 2.0 and transactions - in a single database.
Deploy the application in radically flexible ways that suit companies' size, budget and IT capabilities.
Deliver scalability and ease of use.

Modules
Leads
Contacts
Accounts
Pipeline
Products
Marketing
Projects
Help Desk
Documents
Reports
Quotes
Orders
Key Features
Integrated Communication
Document Storage
Project Management
Team Collaboration
Portlet Technology
Custom Dashboards
Enhanced Searching
Quick Actions Menu
Try It Out
Latest compiled version
View Downloads
Over 23,000 downloads to date
Open Source version
View Instructions
Buy
Download and install Suite CRM today. Our award winning open source CRM is mature, robust, aggressively priced, and comes with the latest source code -- you're never locked in. Our licensed editions come with 1 year of maintenance, upgrades, new versions and source code.