Visit Sites and Play with Apps to See What's Possible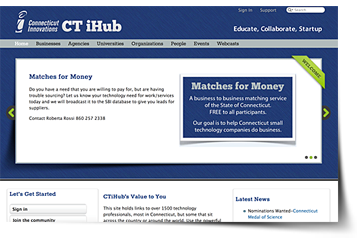 The State of Connecticut via their iHub connects all stakeholders to drive economic development and innovation. Participants range from high tech small businesses, to state agencies, to entrepreneurs, to schools & universities.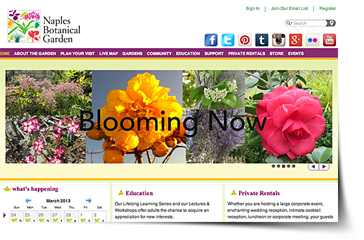 Naples Botanical Gardens wanted social integration with Facebook, a synchronized mobile app, an integrated CRM, and all brought up in a solution that kept their data and look intact. All in 90 days. Done!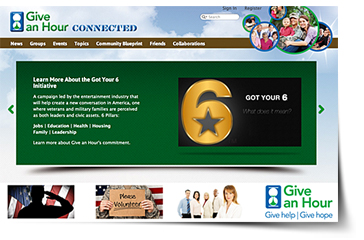 Give an Hour™ is a nonprofit founded by Dr. Barbara Van Dahlen, a psychologist in the D.C., area. The organization's mission is to develop national networks of volunteers capable of responding to both acute and chronic conditions that arise within our society.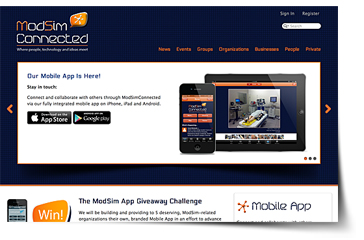 ModSimConnected's purpose is to bring together all stakeholders who have an interest in promoting innovation, economic and business development around the Modeling & Simulation sector.

Chaikin's novel financial app required a front and backend to automatically capture data and support social interactions. They turned to Concursive. Now, their mobile users flow seamlessly into a Hub, a CRM and all integrated.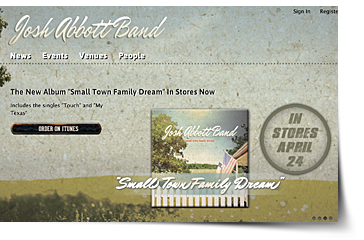 MakeRacket thought mobile apps for bands were lacking, so they've created The MakeRacket App. It's an awesome consumer-facing social mobile app that helps you manage the community around your band. MakeRacket will not only customize it for you, but they will manage it for you as well.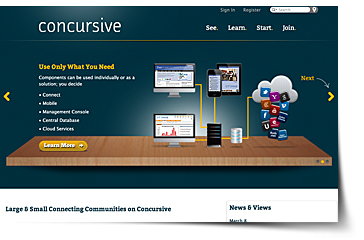 We eat our own dog food. As such, Concursive.com is built on our technology and 20,000 users have registered, accessed our projects, or downloaded our mobile app. It's how we acquire, retain and service our customers.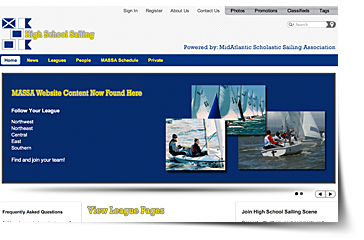 High School Sailing is a Hub for youth sailers, coaches, parents and friends to connect around their passion. Teams have their own spaces and the mobile app connects friends with one another... and their coaches.

Gaga Connected, a recent Beta release, while a tribute to Gaga is intended even more to connect the ecosystem of users and causes she so admirably supports.
What Can You Create?
Whether you are a small business or a large corporation you can build a solution with us that fits your needs.
Website
Build a self publishing website with our easy to use website building platform, Connect.
Community
Build an app or website and add a social element by allowing people to register and have their own profiles and social networking features such as groups and projects. Let the community stand on its own or integrate it with your existing sites.
Social Intranet
Collaborate in private groups and projects using activity updates, blogs, wikis, documents and more.