ConcourseSuite offers radically flexible deployment options ranging from fully hosted traditional SaaS to standalone on premise installations. The result is a solution that is easy to deploy, easy to use and provides the ability to scale up as your organization grows.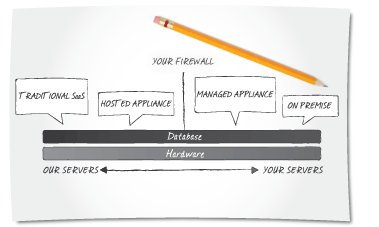 SaaS | Hosted | On-Demand
The hosted methodology is not a new concept; you may have also heard it referred to as Software as a Service (SaaS) or on-demand. With it, we alleviate issues involved with having to spend resources on maintaining a system by hosting the software on our highly secured and redundant servers, and managing the hardware and software for you.
Hosted Appliance | Private SaaS
Similar to the on-demand deployment model except that your instance of ConcourseSuite will run on a dedicated server used only by your organization. We host a dedicated box, sized and specified to your precise needs. Because of ConcourseSuite's unique multi-tenant architecture, you can even set up your own "Private SaaS" installation for the benefit of your affiliates, distributors, and partners.
Managed Appliance
For the best of all worlds, you can run your system on dedicated hardware in your data center, but let us manage, tune, and update the software for you. This option is a way to rapidly deploy a software server behind your firewall, that has been tested to work both efficiently, and effectively with ConcourseSuite. Once deployed, Concursive personnel maintain the server for you.
On Premise
This deployment option is where the flexibility of ConcourseSuite shines. ConcourseSuite will deploy on a multitude of different server platforms. With the On premise option the service enabling software suite could easily plug into your current infrastructure. Your IT staff is given limitless flexibility to customize the system to your businesses needs. Because ConcourseSuite runs out of the box on virtually any combination of hardware, operating system, database, and application server, you can deploy it on practically any infrastructure you choose. Open source. Proprietary. A mix. One piece of code, unlimited options!
Sign in to add your comment.