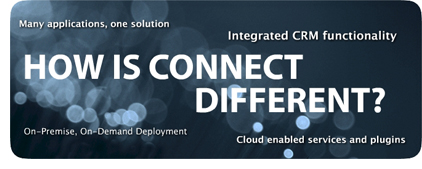 From its versatility to adapt to various applications to its broad range of integrated functionality, ConcourseConnect is truly unique, scalable solution built from the ground up to be different.
Open Source and Commercial versions
The source code version of ConcourseConnect is provided under the GNU Affero General Public License (GPL) and is available for download here. A commercial version providing the latest functionality, greater scalability and integration capabilities is available for on-premise deployments and hosted on-demand options are also available. View our comparison chart to see which version is right for you.
A unique blend of functionality
The strength and uniqueness of ConcourseConnect lies in its melding of functionality from four key areas—online community, collaboration, content management and business tools like customer relationship management (CRM). It provides the ability to quickly create an online community with embedded web 2.0 tools like blogs, wikis and forums and integrated CRM capabilities for managing and leveraging the data and activity of that community. The latter is especially compelling to businesses striving to harness the power of social networking to create what we call "commercial networks."
Versatility and room to grow
From building a social networking website to providing a robust corporate intranet for internal collaboration, known as social business software, ConcourseConnect is a truly flexible solution that can be tailored to virtually any company or organization's needs. This flexibility is further enhanced by the use of the Java portlet architecture, which provides for easy integration of additional services and functionality.
Explore our six sample sites for examples of a wide range of community-based applications for ConcourseConnect.
Integrated CRM functionality
ConcourseConnect is the first community and collboration solution to truly integrate customer relationship management (CRM) functionality. It was built from the ground up as an integrated solution leveraging our existing CRM product ConcourseSuite.
The addition of CRM funcitonality to a community and collaboration solution enables organizations to both better manage their implementations and maximize the value of the data and activity generated from those implementations. Large communities without management and CRM tools quickly become difficult to manage.
On-premise or On-demand deployments
ConcourseConnect is available as an on-premise solution, or we can host and maintain your implementation. Let us know what you're trying to achieve, and we'll work with you to pick a deployment model that best suits your needs based on factors like number of users/members, expected page views, bandwidth usage, etc.
Sign in to add your comment.