Connecticut Innovations iHUB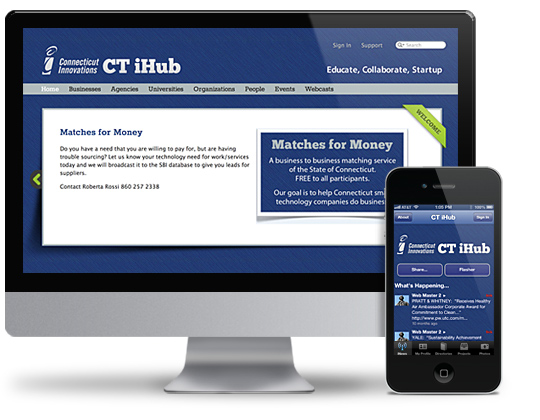 Connecticut Innovations (CI) was created by the Connecticut Legislature in 1989. Since 1995, returns from its own investments - not state money - have supported operations and new, forward-thinking funding programs. As such, CI provides strategic capital and operational insight to push the frontiers of high-tech industries such as energy, biotechnology, information technology, and photonics. Over the years, CI has helped over 100 emerging companies research, develop, and market new products and services attracting over $1 billion dollars in additional investments from private equity providers.
---
The Connecticut iHUB, developed by CI, connects all innovation stakeholders to promote economic and business development. Innovation stakeholders are high tech small businesses, large corporations, research institutions, universities, federal and state agencies and citizens looking to get ahead. It incorporates a rich array of public and private collaboration tools, content feeds, and personal communication and interaction features.
Needs and Problems to Be Solved
Connecticut's need for an innovation and economic development hub had many dimensions. They fell into a number of broad categories as described below:
Existing Program Support: CI had been playing, for many years, an active, leading role in facilitating innovation across the State and for a wide array of stakeholders. Accordingly, the solution needed to be designed to support existing programs but be flexible enough extend the value proposition in new ways.
Breadth of Features: As CI's vision included social, collaborative and operational capabilities, the technology needed to include features that looked like those found in Facebook, Linked-In, Twitter, Yammer, Yahoo Groups, UStream, and Salesforce.com, while being available through the web and mobile apps running in iPhone, iPad and Android.
Interoperability & "The Cloud": It wasn't possible (nor necessary) to build from scratch all of the features CI desired. The mandate, therefore was to adopt a platform-type solution that could accommodate 3'rd party products and services being readily integrated in a secure way and then easily updated.
Familiarity & Ease of Use: As an entire generation was (and still is) being trained by using the mega-social sites like Facebook and Linked-in, CI wanted to adopt as many common notions as possible so users could be easily on-boarded and then brought up to speed quickly.
Ownership: Connecticut needed to "own," in the truest sense of the word, their innovation environment. Simply nesting it in somebody else's community wasn't an option. Ownership needed to be at such fundamental levels as ownership of data, of the URL, of the user, and of the total experience.
Control: Closely related to ownership was the concept of control. CI needed to control all business policy and technical considerations ranging from user access, to where the system was hosted and maintained, to how and when it would evolve, to end-user licensing. Not the type of control consumer communities like Facebook provide.
Manageability & Upgradeability: While CI required a custom solution, they also needed one built on upgradeable, integrated components so they could achieve efficiency, quality and security at reasonable cost.
The solution delivered by Concursive, built entirely on its standard, upgradeable components, achieves these needs for Connecticut Innovations in the iHUB deployment.
Process Employed
Connecticut deployed the iHUB through the iterative approach followed by most organizations buildig hubs. As such, the phases they went through:
Prototype: Covered roughly one month; 1 week for configuration and roughly 3 weeks for socializing it to stakeholders, gaining feedback, and then reaching consensus to go to the next phase.
Beta: Began immediately as the prototype "turned into" the beta. Additional customizations were made, users brought up live, and initial programs begun.
Soft Launch: As the beta continued and confidence grew, the iHUB morphed into the initial "for real" system as successful programs were replicated.
Production: It's now in full production with the full suite of capabilities employed: Web, mobile, management console and a number of cloud services plugged in.