Concursive Corporation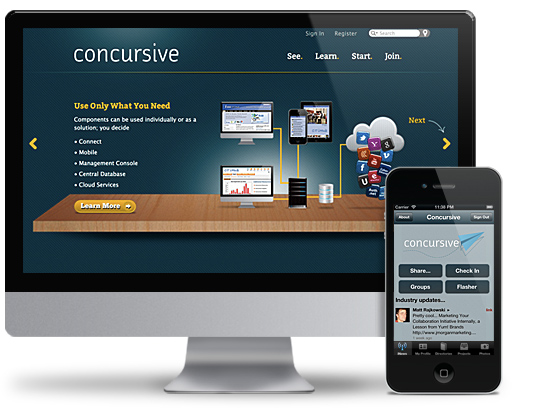 Of course we eat our own dog food!
Concursive has used ConcourseConnect as the basis for our web site for several years now, but our site was not showing off the capabilities of our technology very well. It also just wasn't a very exciting or innovative site, and did not succeed in explaining to potential customers why our products are best in class, and how they can be used.
So we rebuilt the site on the latest version of ConcourseConnect, with both a heavy marketing flavor, and a back end full of social networking and collaboration constructs to support current and future customers.
The new site explains the components of a complete Concursive solution, and highlights a number of customer case studies that use our products in different and innovative ways.
Of course, there is a custom mobile app so that those participating in Groups and Projects on the site can get instant updates and can participate even when not in front of a computer.
Needs and Problems to Be Solved
A New Web Site: The old Concursive site was getting stale, and truthfully never really did accomplish our goals of demonstrating the uses and benefits of our products very well. Over time, it was patched and modified until it was nearly incoherent. It was time for a big change, and we decided to start again from scratch on our latest technology.
Mobile: A custom mobile application was required both to "show off" our capabilities, and to provide more sophisticated users of our site access to their Projects and Groups.
Ease of Managing Sophisticated Content: Today, all web sites must be dynamic. Things change quickly and the web site must keep up. Like many of our customers, we wanted a traditional web presence with an Enterprise Social-Collaboration back end. ConcourseConnect provides most of the capabilities of a web content management system, with a fully integrated social network, CRM and mobile app, allowing us to keep the site fresh in a rapidly changing marketplace.
Customer Management: Concursive.com has over 17,000 registered users, and keeping track of them would be next to impossible without a Management Console (MC). Fully integrated with ConcourseConnect, the MC gets real-time updates of new users and user activity.
Security: With so many registered users, even though we do not keep much personally identifiable information, we felt that we needed to protect the information we do have. ConcourseConnect and MC are architected and heavily tested for security. While no web application can be proven to be totally secure, we are confident about the security of our products.
Process Employed
Concursive.com deployed through the iterative approach followed by most organizations buildig hubs. Development was done on a test system, as our existing web site could not be used for testing. As such, the phases we went through:
Prototype: Covered roughly one month; 2 weeks for configuration and roughly 2 weeks for socializing it to stakeholders, gaining feedback, and then reaching consensus to go to the next phase.
Beta: Began immediately as the prototype "turned into" the beta. Additional customizations were made, users brought up live, and new content was created and installed.
Soft Launch: As the beta continued and confidence grew, we replaced our original site with the new one, even though all the content was not yet there.
Mobile: The mobile app was created and distributed to stakeholders for comment.
Production: It's now in full production with the full suite of capabilities employed: Web, mobile, and a number of cloud services plugged in. Content continues to be added.